Are you on the holds list waiting for your next Colleen Hoover (aka CoHo) read? Don't worry, you're not alone. There are hundreds of other readers discovering the queen of Booktok. While you're waiting, try one of the following authors with similar writing style and feel.
If You Stay by Courtney Cole
Twenty-four-year-old Pax Tate is a tattooed, rock-hard bad boy with a tough attitude to match. His mother died when Pax was seven, leaving a hole in his heart that he pretends isn't there . . . until he meets Mila.
Sweet, beautiful Mila Hill is the fresh air that Pax has never known in his life. He doesn't know how to not hurt her-but he quickly realizes that he'd better figure it out because he needs her to breathe. But is that enough to make her stay?
Twisted Love by Ana Huang
He has a heart of ice…but for her, he'd burn the world. Alex Volkov is a devil blessed with the face of an angel and cursed with a past he can't escape. But when he's forced to look after his best friend's sister, he starts to feel something in his chest: A crack. A melt. A fire that could end his world as he knew it.
Ava Chen is a free spirit trapped by nightmares of a childhood she can't remember. But despite her broken past, she's never stopped seeing the beauty in the world…including the heart beneath the icy exterior of a man she shouldn't want. Her brother's best friend.
Most of All You by Mia Sheridan
Crystal learned long ago that love brings only pain. Feeling nothing at all is far better than being hurt again. Then Gabriel Dalton walks into her life. Despite the terrible darkness of his past, there's an undeniable goodness in him. And even though she knows the cost, Crystal finds herself drawn to Gabriel. Except fate will only take them so far, and now the choice is theirs: Harden their hearts once again or find the courage to shed their painful pasts.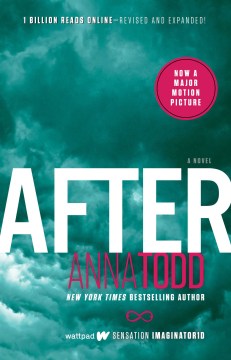 After by Anna Todd
Tessa is a good girl with a sweet, reliable boyfriend back home. She's got direction, ambition, and a mother who's intent on keeping her that way. But she's barely moved into her freshman dorm when she runs into Hardin. With his tousled brown hair, cocky British accent, and tattoos, Hardin is cute and different from what she's used to. But he's also rude–to the point of cruelty, even.
Tessa already has the perfect boyfriend. So why is she trying so hard to overcome her own hurt pride and Hardin's prejudice about nice girls like her?
Ten Tiny Breaths by K.A. Tucker
Four years ago Kacey Cleary's life imploded when her car was hit by a drunk driver, killing her parents, boyfriend, and best friend. Still haunted by memories of being trapped inside, holding her boyfriend's lifeless hand and listening to her mother take her last breath, Kacey wants to leave her past behind. Armed with two bus tickets, twenty-year-old Kacey and her fifteen-year-old sister, Livie, escape Grand Rapids, Michigan, to start over in Miami.
If your heart is set on a Colleen Hoover, make sure you've read It Ends With Us before the sequel It Starts With Us comes out on October 18.