You are invited to join in a discussion on March 7th from 7:00-8:00 pm
in the "Purple Room" on the mezzanine level of the library.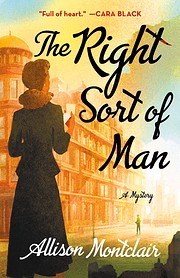 The first entry in the "Sparks & Bainbridge" mystery series takes place in 1946 London. Two very different women from very different circumstances decide to embark on a new business enterprise they've named the Right Sort Marriage Bureau. Their goal is to help men and women find each other. Iris Sparks had a job with British Intelligence and is unable to share much of her past. War widow Gwen Bainbridge is at the mercy of her wealthy dead husband's family who have legal custody of her young son. Their first client, Tillie La Salle, is murdered. The police assume the murderer is Dickie Trower, Tillie's initial match from the Right Sort Marriage Bureau, and no further investigation is necessary. Iris and Gwen disagree. The two begin their own investigation to find the real killer and in that process save their business.
This is a clever story that fans of Jacqueline Winspear and Maisie Dobbs will enjoy.
Sparks & Bainbridge Mystery Series includes:
The Right Sort of Man (2019)
Royal Affair (2020)
A Rogue's Company (2021)
The Unkept Woman (2022)
Hope to see you there!
~Emma