Her Quiet Revolution: A Novel of Martha Hughes Cannon,
Frontier Doctor and First Female State Senator
by Marianne Monson
This novel is based on the life of Martha (Mattie) Hughes Cannon. Martha was born in Wales in 1857. The young family emigrated to New York when she was just 2 years old. They joined the Church of Jesus Christ of the Latter-Day Saints (the Mormon church), and after saving enough money the family headed west to Utah. Their goal was to settle in Salt Lake City. During the journey Mattie's little sister, Mary Elizabeth, died. Her father died just days after arriving in Utah. It was during that time period that Mattie decided to pursue a career in medicine. Doctors were scarce, and women doctors were nonexistent.
For most women, their lifetime goals included marriage and lots of children. Polygamy was openly practiced. This was not the life Mattie wanted. She got her undergraduate degree in chemistry at the University of Deseret (now the University of Utah). With some financial help from the Mormon church, she attended medical school at the University of Michigan. Her education continued at the University of Pennsylvania, where she received a degree in pharmacy. She attended the National School of Oratory and learned how to speak eloquently in public.
In addition to all her professional accomplishments, when Mattie moved back to Utah, she wanted to become a wife and mother. She soon became the fourth wife of Angus M. Cannon, a leader in the Mormon church. By this time the U.S. government was actively prosecuting polygamists, especially men. To help safeguard her husband, she left the country with her daughter.
In addition to being a physician, Mattie's amazing life also included being a Utah State Senator (the first woman to serve in any state senate anywhere in the United States), a prominent women's rights advocate and suffragist. In 2018, the Utah state legislature voted to honor Martha Hughes Cannon by sending a statue of her to Washington D.C. to represent Utah in Statuary Hall. The statue will be placed in Statuary Hall in honor of the 100th anniversary of the 19th amendment, which allowed women the right to vote in the United States. (It was intended to be installed in 2020, the 19th amendment's official centennial, but that has been postponed due to the coronavirus pandemic.)
This book is a treat for fans of historical fiction and women's history in the late 1800's.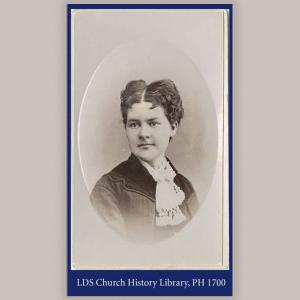 ~Emma