The Kew Gardens Girls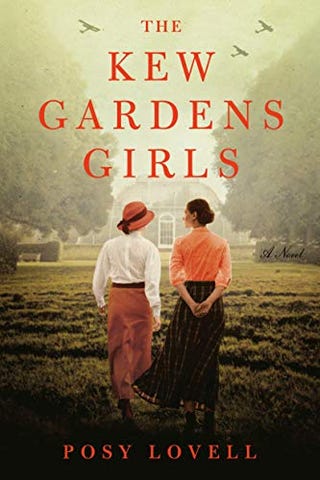 During WWI, women were hired to replace men who were serving in the military to work at Kew, the Royal Botanical Gardens in London. Not everyone was pleased with this decision including the Gardens' foreman Mac. The women's lesser wages for the same work as men reflected this attitude. Ivy Adams, an illiterate teenager from Hackney, and Louisa Taylor, escaping her abusive husband in Kent, were both hired. Bernie Yorke, a former school teacher and a Quaker was also hired. It is soon discovered that Bernie refuses to enlist and he becomes a target of the "white feather campaign". Men out of uniform were given white feathers, often by Suffragettes hoping to shame them into enlisting. Because Bernie was a conscientious objector, he lost his job at Kew. Soon Lady Winifred (Win) Ramsay begins as a volunteer worker at Kew Gardens just to keep busy while her husband is in the Navy. The three women become fast friends as they fight for equal pay for women at Kew and as they support pregnant Ivy as she waits for Jim to return home from the war.
This debut novel is a mixture of friendship, romance, sadness and fight. It's a treat for fans of historical fiction. For those interested in Kew Gardens, please enjoy a brief tour/history at https://www.youtube.com/watch?v=khOfA1JhLyg.
~Emma