The Children's Blizzard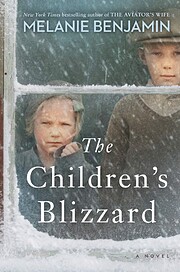 It's January 12, 1888 on the Nebraska-Dakota border when an unseasonably warm afternoon turns into a deadly blizzard just as school lets out. The novel focuses on the experiences of two young teachers (sisters Raina and Gerda Olsen) before, during, and after the storm. They both feel guilty about the deaths of some students and the maiming of others. Omaha newspaperman Gavin Woodson feels responsible for luring many Northern Europeans to the area promising a "Garden of Eden" experience for the homesteaders. After the storm he travels and reports honestly on the hardships of the territory, sharing personal stories of survivors and of some who did not. Despite heroic efforts 235+ people died that day.
I have interest and genealogical ties to the Dakota Territory and Nebraska. My father, who was born in Foxholm, North Dakota in 1918, remembers guide ropes tied from the barn to the house to guarantee no one got lost in blizzard conditions when going out to do chores.
Based on actual oral histories this is a story of courage, family, and sacrifice.
~Emma