Happy New Year!
I read the following novels over the last few weeks and am sharing a mixture of historical fiction, mystery, adventure, and just plain fun. Consider giving them a try.
The Brilliant Life of Eudora Honeysett by Annie Lyons
Lonely 85-year-old Eudora contacts an assisted suicide clinic in Switzerland. She is ready to die on her own terms with dignity. Happily new neighbors move in next door and 10-year-old Rose declares Eudora her new best friend. Soon Rose latches on to elderly neighbor Stanley declaring him to be another new friend of hers. The threesome spend time together and go on a few adventures that give Eudora and widower Stanley a new lease on life as well as some new friends.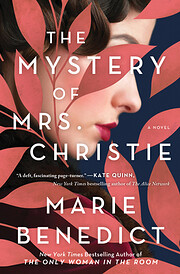 The Mystery of Mrs. Christie by Marie Benedict
This is a novel loosely based on historical fact. When Agatha Christie's husband wants a divorce, Agatha disappears for several days with no clues. Authorities suspect her husband had something to do with the disappearance. Agatha would not leave her young daughter behind willingly.
Redhead by the Side of the Road by Anne Tyler
Geeky tech expert and building superintendent Micah Mortimer is happy with his life and teacher girlfriend Cassia (Cass) Slade. Until… One day Brink Adams, a college freshman, shows up at his door claiming to be Micah's son. Micah did have a relationship with the young man's mother in college, but declares that he is not Brink's father. Brink stays with Micah for a time. In the meantime, Cass is losing her apartment and Micah does not suggest that she move in with him. Why can Brink stay, but Cass is not invited to move in?
The Artic Fury by Greer Macallister
Based on historical fact, it's 1853 when Virginia Reeve is hired by Lady Franklin to lead a group of women explorers to the Arctic. Their assignment is to to figure out definitely what happened to Captain Sir John Franklin's expedition. The conditions endured by the women are dreadful. Unfortunately not everyone returns from the expedition and Virginia is placed on trial for the murder of one of the participants.
~Emma