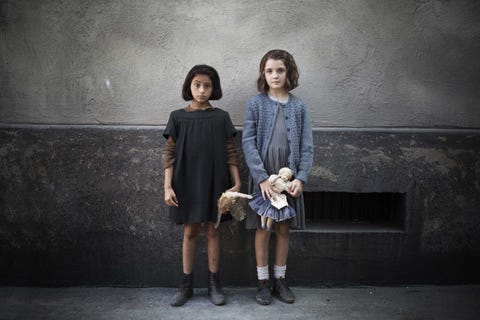 I did it! I finished the Neopolitan Quartet, My Brilliant Friend, The Story of a New Name, Those Who Leave and Those Who Stay and The Story of the Lost Child, by Elena Ferrante, and I already feel lost without "my" girls, Lila and Lenu, Ferrante's main characters in this sweeping series of a lifelong friendship within the backdrop of a poor neighborhood of Naples, Italy.
I need to rely on some wonderful quotes from a review by Ella Alexander found at https://www.harpersbazaar.com/uk/culture/a25122947/elena-ferrante-neapolitan-novels-female-friendship/ to give an essential understanding of Lila and Lenu's story. "We place a lot of emphasis on romantic love because of the narratives that we're fed from such a young age. But the relationships and love we have for our female friends, especially during childhood, are equally as emotional and charged…But it's not always rosy. There's the jealousy, competitiveness and cruelty that people only dish out to those they love the most, and when we're children, teenagers and even in our early twenties, we don't understand yet how to rationalize those feelings or to temper them… It is a reminder that we never lose the love for someone who we were once so close to, and of how far someone can push another before deciding that a friendship brings more sadness than joy."
I believe most readers will find a friendship, somewhere within their lifetime, that will cause reflection and raw emotion to surface, while reading about the journeys of Lila and Lenu. As a reader, as well as both the main characters, you come full circle and find some understanding and peace as to how we got here.
If you choose to go on this journey with Lila and Lenu, which I highly recommend, it will be lengthy, but take your time, absorb, digest, reread, if necessary. I also watched the HBO series while reading the books and found that each format, reading/watching, complimented each other very well, and ultimately enhanced the story for me.
While I will miss "my" girls", I look forward to jumping into Ferrante's new novel, The Lying Life of Adults, to be released September 1st, 2020.