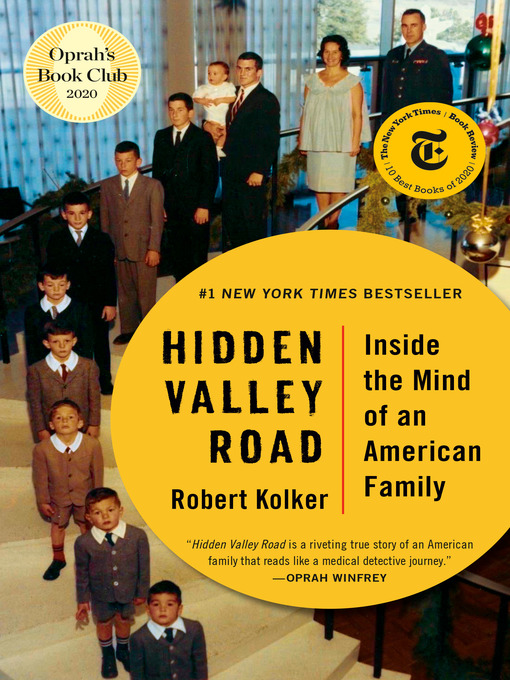 Hidden Valley Road by Robert Kolker
WOW, what a book.   It took me about a week to finish this book, but each time I put it down, I could not stop thinking about it.  In fact, if I was reading it before going to bed, several times I ended up dreaming about it – it was that good, that thought provoking, that well written, that emotional.  As you can see by the cover, this book is one of Oprah's Book Club picks, so you have confidence going into the book that it should be a good one.  Fair warning, it's a gut wrencher but well worth your time.
The Galvin family consisted of 12 children, 6 of them developed schizophrenia.  It was like a row of dominoes, Donald, the oldest , with his all american good looks & athleticism, during college, began a steep and steady descent into madness, with five of his brothers following in his footsteps. Kolker takes the reader right into the home of the Galvins to experience the chaos and confusion about what was happening to them. While 6 of the children have no mental illness, not one family member walks away from their home unscathed.  Kolker also explores the scientific piece of schizophrenia, mostly in laymen terms, so the reader has better knowledge of  schizophrenia as a disease without getting lost in the extensive history of the brain.  The matriarch of the family, Mimi Galvin, is one of the  survivors of this brutal truth, until her death late in life, and she is not to go unnoticed.  Despite every obstacle and roadblock thrown at her, she remained steadfastly committed to the care and support of her sick sons, even at the expense of losing her well children. Imagine if you were once a healthy young man, facing down the terrifying consequences of schizophrenia. Imagine if you were not mentally ill, surrounded by siblings struggling with mental illness and worrying, will you be next. Imagine being a mother to both and trying so very hard to protect them all.