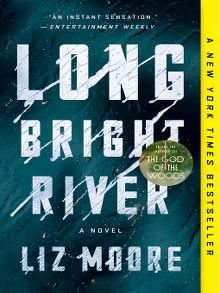 I went outside of my comfort zone by choosing to read Long Bright River by Liz Moore.  While my reading list can appear eclectic at times, mystery/thrillers tend to fall to the very bottom of my list. However, due to good press – an instant New York Times Bestseller and a Good Morning America Book Club pick,  and wanting to expand my reading horizons, I chose to dive in.  Almost instantly I realized that this book is a convergence of almost everything I like to read.  Along with being a gritty cop tale, this book is a family saga, with complex female characters, twists and turns that you never see coming, and equally heartfelt and suspenseful.
Meet Mickey Fitzpatrick, a thirty something patrol officer in the Philadelphia Police Department.  Mickey's younger sister, Kacey, is an addict who supports her habit through prostitution in the rough & drug ridden Philly neighborhood of Kensington.  Recently, there has been a spree of murders in the Kensington area, and Kacey has gone missing.  A desperate Mickey must use everything she has learned about addiction and the drug trade in Kensington to find her sister.
The story alternates between present day mystery and the story of the sisters childhood in an equally rough and dysfunctional environment.  The reader is set on a roller coaster ride of gripping suspense to heart-wrenching family turmoil.  In the end the reader will have experienced a story of mystery, suspense, addiction, and the family ties that persist in aiding the characters come to their fate.