I Found You by Lisa Jewell
Sara- Single mom, Alice Lake finds a man sitting on the cold, rainy beach outside her house.  He has no name, no jacket and no memory;  she lets him in.  Who is he, and is anyone looking for him?  An interesting read with likable characters that kept me guessing.
When Breath Becomes Air by Paul Kalanithi
Emma- This is the story of Paul Kalanithi, who at 36 years old, had nearly completed his residency in neurosurgery when he was diagnosed with Stage IV lung cancer. As physician and patient he faced his death head on with the loving support of his wife and family. An inspirational moving memoir.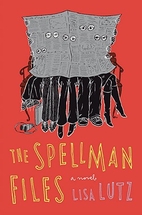 The Spellman Files by Lisa Lutz
Beth-  We are introduced to Isabel Spellman, private investigator. Following in her parent's footsteps, Izzy can't help but run background checks on every potential suitor she meets, usually causing some trust issues early in her relationships.  This funny, engaging story unfolds the wacky world of the Spellman family, leaving the reader craving more.